Discover 5 Canadian wines to try before you die with some help from Wicked Tours, the wine tour specialists in Kelowna.
Ontarian Icewine
2016 Chardonnay, 50th Parallel Estate
2015 King's Ransom Cabernet Sauvignon, Noble Ridge Vineyards
2017 Pinot Noir GFV Saddle Block, Spearhead Winery
Chardonnay, Beamsville Bench VQA, Hidden Bench Estate Winery
A tour we think you'll love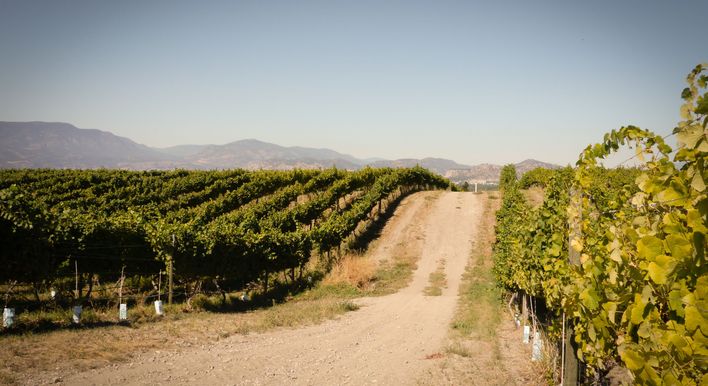 East Kelowna Wine Tour
From CA$149
View tour
At Wicked Tours, we combine a wicked sense of humour with an honest passion for Canadian wine, especially from the Okanagan Valley. The Okanagan is where we're from, and its beautiful lake, verdant vineyards, and rolling hills all inspired us to create a Canadian wine tour company with its distinctive personality. If anything we say today encourages you to sample the beautiful Okanagan wine country, check out our Okanagan Wine Tours.
---
Why Try Canadian Wine at all?
Because it's delicious! And because all true wine connoisseurs are open to new experiences. Canada's wine brand worldwide is nowhere near as big as many other countries, yet the locals often refer to the Okanagan Valley as the Napa Valley of British Columbia. Canada's wines might surprise you between the Okanagan and Ontario's three wine-growing regions. In fact, we're sure they will. Rather than overwhelming you with 10, 20, or even 50 Canadian wines you must try before you shuffle off this mortal coil, we decided to hone the list down to five!
At Least One Ontarian Icewine
Rather than specifying a particular brand, we'd like to stress that you must try at least one Ontarian icewine. Icewine is made when grapes ripened on the vine are subjected to temperatures of -8ºC or lower. The grapes, frozen like this, release a very thick, sweet, acidic liquid that, when fermented, produces a sweet dessert wine prized worldwide. Ontario is the best place in the world to make Icewine as it has warm summers and consistently cold winters. Ontario is the only region in the world that can guarantee an Icewine vintage each year, and its ice wines regularly win international awards. This is the perfect start to this list of Canadian wines, as Ontarian icewines have put us on the map!
2016 Chardonnay, 50th Parallel Estate
While each vintage is different, 50th Parallel Estate in the Okanagan Valley regularly places gold or silver on Chardonnay du Monde, so you can't really go wrong with any bottle. But if you're looking for something extraordinary, opt for their 2016-winning Chardonnay (if you're lucky enough to get hold of one). 50th Parallel Estate is also celebrated for its Pinot Noir and its Riesling.
2015 King's Ransom Cabernet Sauvignon, Noble Ridge Vineyards
Once again, we've shared a specific vintage of an Okanagan wine, but don't fret if you can't get a 2015, as all King's Ransom Cabernet Sauvignon from Noble Ridge Vineyards is worth trying. Noble Ridge only produces wines from its King's Ransom collection in the best growing seasons. This means there is a much smaller yield of King's Ransom wines, but the quality is always exceptional; for instance, it's almost unheard of for a King's Ransom wine not to win at least a couple of awards.
2017 Pinot Noir GFV Saddle Block, Spearhead Winery
Spearhead Winery is another Okanagan winery spread across three vineyards in East Kelowna, West Kelowna, and Summerland. As the Spearhead Winery brand applies across three other vineyards, there are three terroirs worth considering, and this variety allows them to produce high-quality wines consistently. The 2017 Pinot Noir GFV Saddle Block received all the accolades it deserved, so make sure you snap up a bottle if you find one.
Chardonnay, Beamsville Bench VQA, Hidden Bench Estate Winery
The last wine on this list is another Chardonnay, although this one is from Ontario (See! We don't only boast about Okanagan wines…). With a particular focus on terroir, Hidden Bench Estate Winery makes some excellent wines that regularly win awards. We haven't suggested a specific vintage this time, as pretty much any Chardonnay from Hidden Bench is worth drinking. Hidden Bench has a particular collection of wines called the Terroir Series that we also highly recommend.
---
There you have it. Five Canadian wines to enjoy while you're alive. And we're confident you'll feel even more vivacious if you get your hands on any of the above wines. Of course, all this talk about Canadian wines has likely inspired you to visit, and you're already planning to attend one of our winery tours in the Okanagan. Please feel free to get in touch if you have any questions. Your Canadian wine odyssey began when you clicked on this blog; we hope it'll be a long and fruitful journey!