Some things just go together: Drake songs and breakups, bread and butter, and Kelowna and wine.
A tour we think you'll love
Luxury Private Wine Tour
From CA$379
View tour
With over 40 wineries to choose from in Kelowna, it's no secret that a wine tour should be at the top of your list. But with so many Kelowna wineries, how do you make your "all-star list" of must-try spots?
That's where we come in. As official Kelowna wine experts, we've been around the block – or, shall we say – the vineyard. Using a holistic point system scale (that accounts for wine specialties, tasting room vibes, events, lake views, bathroom amenities, Instagrammable-ness and proximity to cute vineyard animals, just to name a few), we've compiled our big eight wineries in Kelowna.
We've got you covered as a designated driver, so all you need are your winery hats and perhaps some electrolyte packets to survive the next day. So let's sip our way through the best wineries in Kelowna!
Here Are The Eight Best Wineries in Kelowna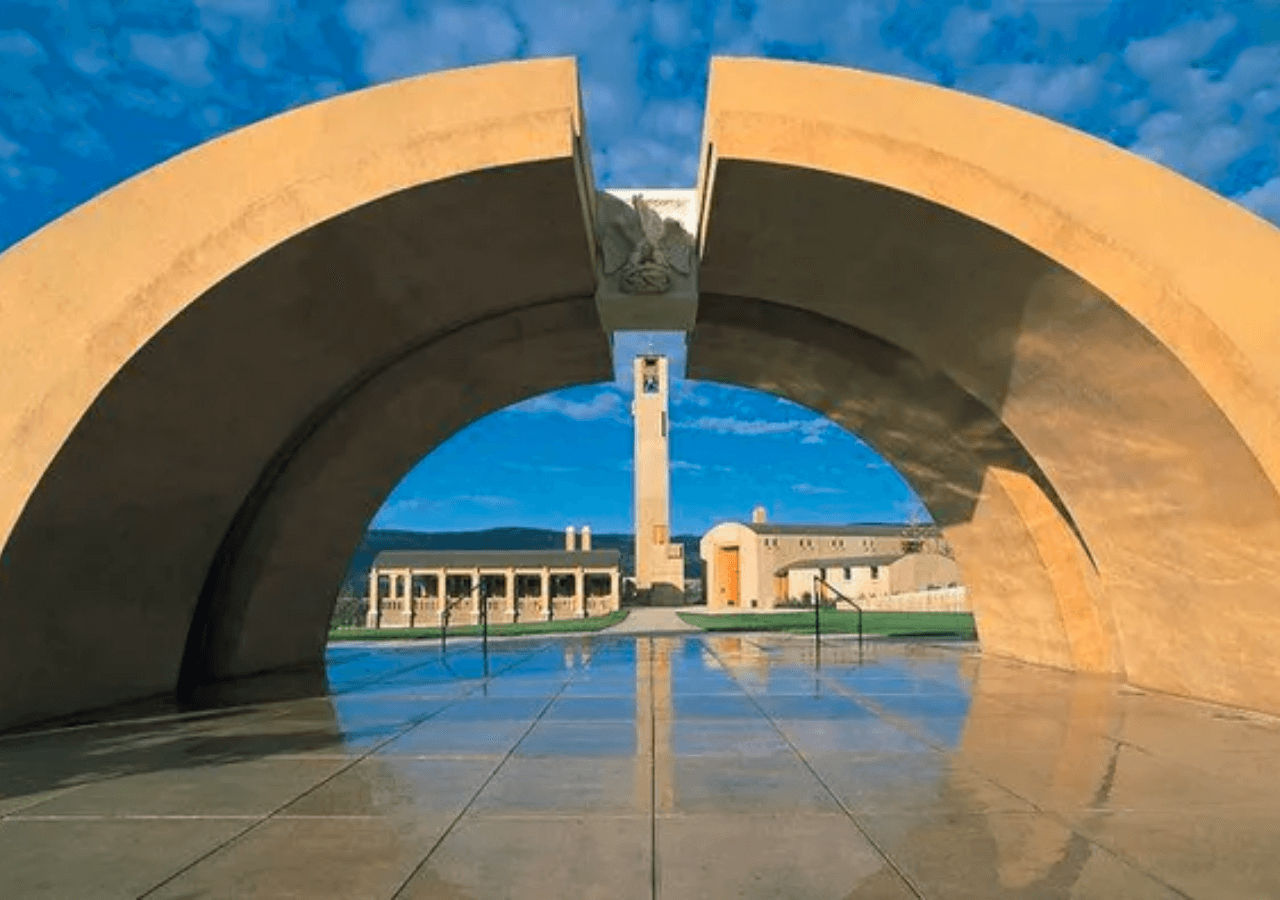 Mission Hill Family Estate
Location: West Kelowna
Specialty: Bordeaux blends,
Vibe: Formal, historical, architectural
Visit on the Taste Of Terroir Tour!
Mission Hill is a museum visit and a winery rolled into one. The unique architecture, expansive lawn and giant amphitheater make it a stop you can spend multiple hours exploring. There are endless stunning backdrops and panoramic views of the Okanagan Valley to enjoy as you walk around the greens.
Once inside the estate, you'll transport back a few hundred years, but with a modern twist. Classic leather plush furniture and portrait-style paintings create a contrast against the contemporary window design and concrete architecture to seamlessly fuse the old and the new for something completely unique.
The wine you can find here is some of the best in the country, thanks to the over 40 years they've dedicated to sustainable wine growth. You can find a diverse range of wines, from rich red blends to juicy whites – enjoy varietals like Merlot, Cabernet Sauvignon, Chardonnay, Pinot Gris, and more. If you don't believe us, check out the long list of official awards they've won over the years.
Mission Hill is the perfect place to bust out that 'fit deemed "too fancy for a normal day" without feeling too exclusive – both nice jeans and pretty dresses feel at home here.
There are several ways to enjoy the Mission Hills grounds. You can explore the property with a beautiful glass of wine in hand, pose for pics in front of the interesting architecture, sit down for an incredible gourmet dining experience, or even enjoy an outdoor concert in their amphitheater.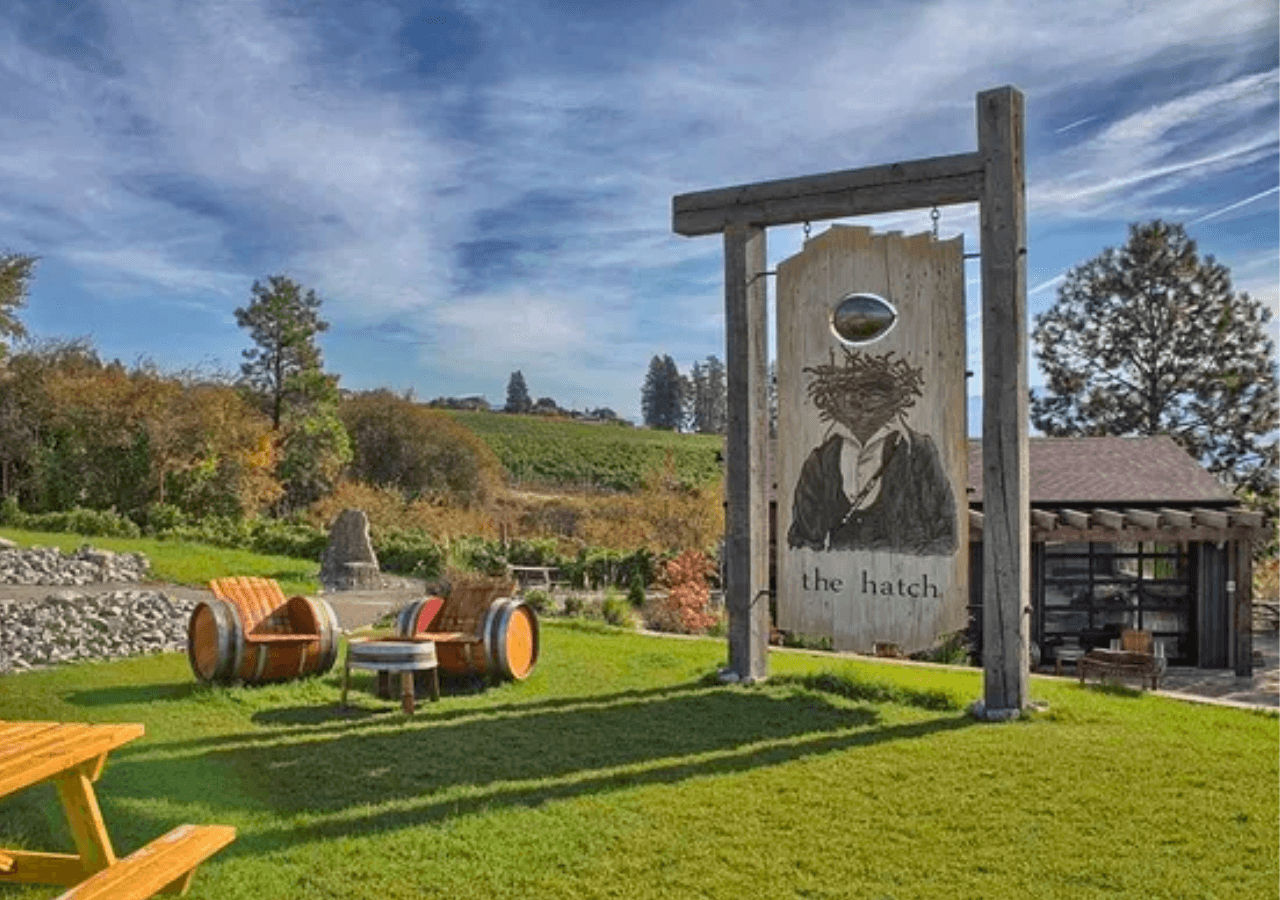 The Hatch Winery
Location: West Kelowna
Specialty: Reds, whites, rosés, sparkling
Vibe: Quirky, welcoming, comfortable
Visit on the Wicked Wine Express Tour!
Hatch Winery is our go-to recommendation for anyone who wants to enjoy a quality glass of wine and superb ambiance without dealing with any of the stuffiness some wineries have. This Kelowna winery is equal parts trendy-cool and rustic-warm, with hand-painted signs, wood finishes and several antique tools hanging about. And with sweeping views of the Okanagan Valley, you have gorgeous things to look at indoors and out.
The staff is super friendly and always happy to help you select the perfect tasting list. You can see personality in the pun-heavy wine names and stunning labels, but don't let the lightheartedness fool you – these are high-quality wines. You can find award-winning reds, whites, and sparkling wines that put Hatch Winery on the map as one of the top 10 wineries in Canada.
The Hatch Winery does a lot to ensure you have a fantastic time the second you step onto its grounds. Stop by at the right time, and you'll be able to catch some interesting events. If you're picturing live acoustic, think bigger. You can find magicians, Reggae, comedy, rock and more to keep you entertained.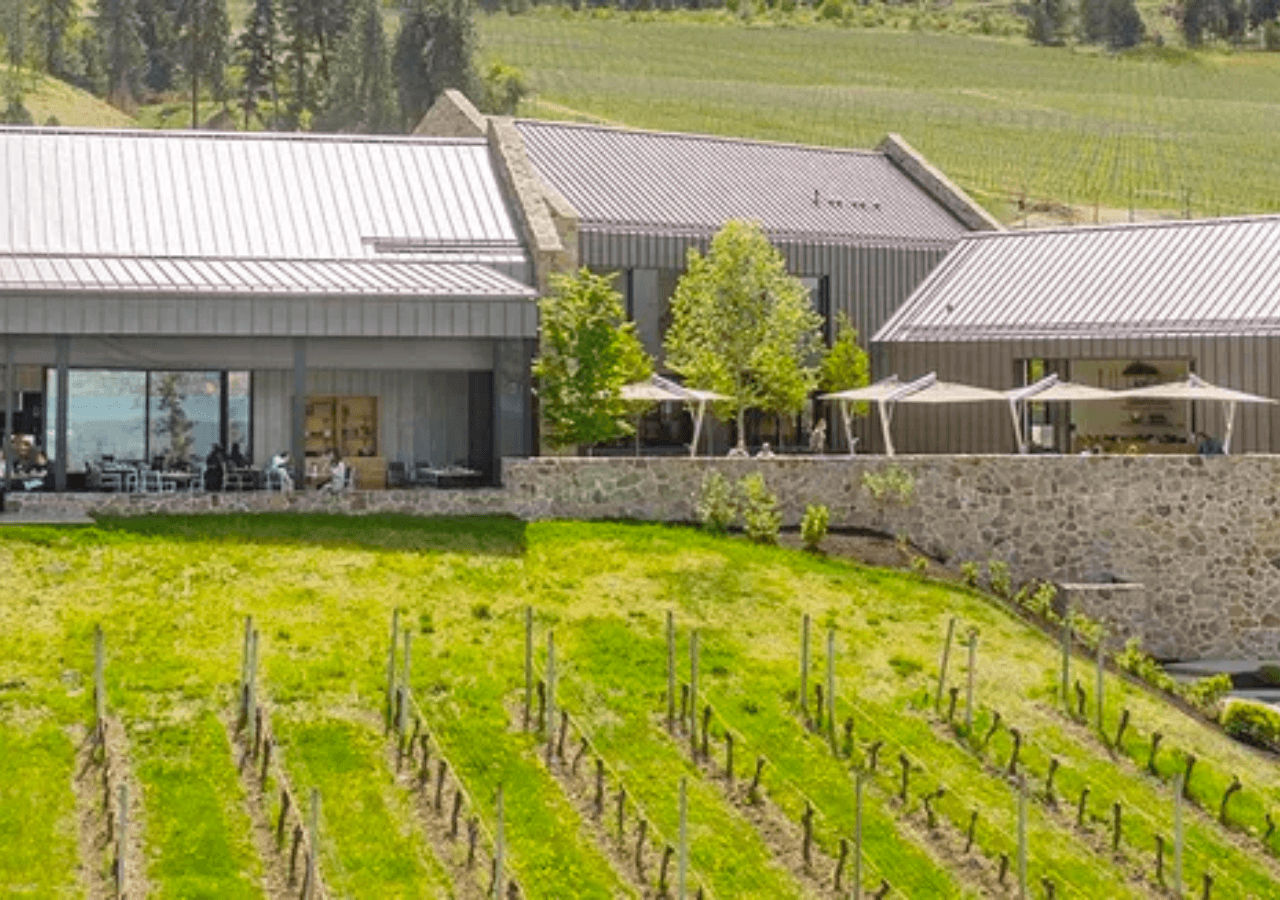 CedarCreek Estate Winery
Location: South Kelowna
Specialty: Merlot, Pinot Noir, Chardonnay, Pinot Gris
Vibe: Upscale, serene
Visit on the Taste Of Terroir Tour!
CedarCreek Estate Winery exudes simple elegance and tranquility to make the quality of the wine and food pairings the main characters. Picture upscale design, giant windows, bubbling fountains, smooth gray rock details, bright green trees and stunning lake views as your sommelier guides you through a thoughtfully curated list of exceptional wines.
You can enjoy tasting from their stone farmhouse tasting room or outside with a lake view. Enjoy complex pinots, rieslings, and so much more, with or without food pairings. The team offers different tasting experiences built around regions, wine types and preferences.
CedarCreek Winery is a popular spot for upscale private events and weddings and houses one of the best restaurants in Kelowna. Whether you plan an event or just visit for a memorable dinner, the Home Block Restaurant is an unbeatable spot for meals made with ingredients sourced from their own gardens, local farmers, foragers, and ranchers.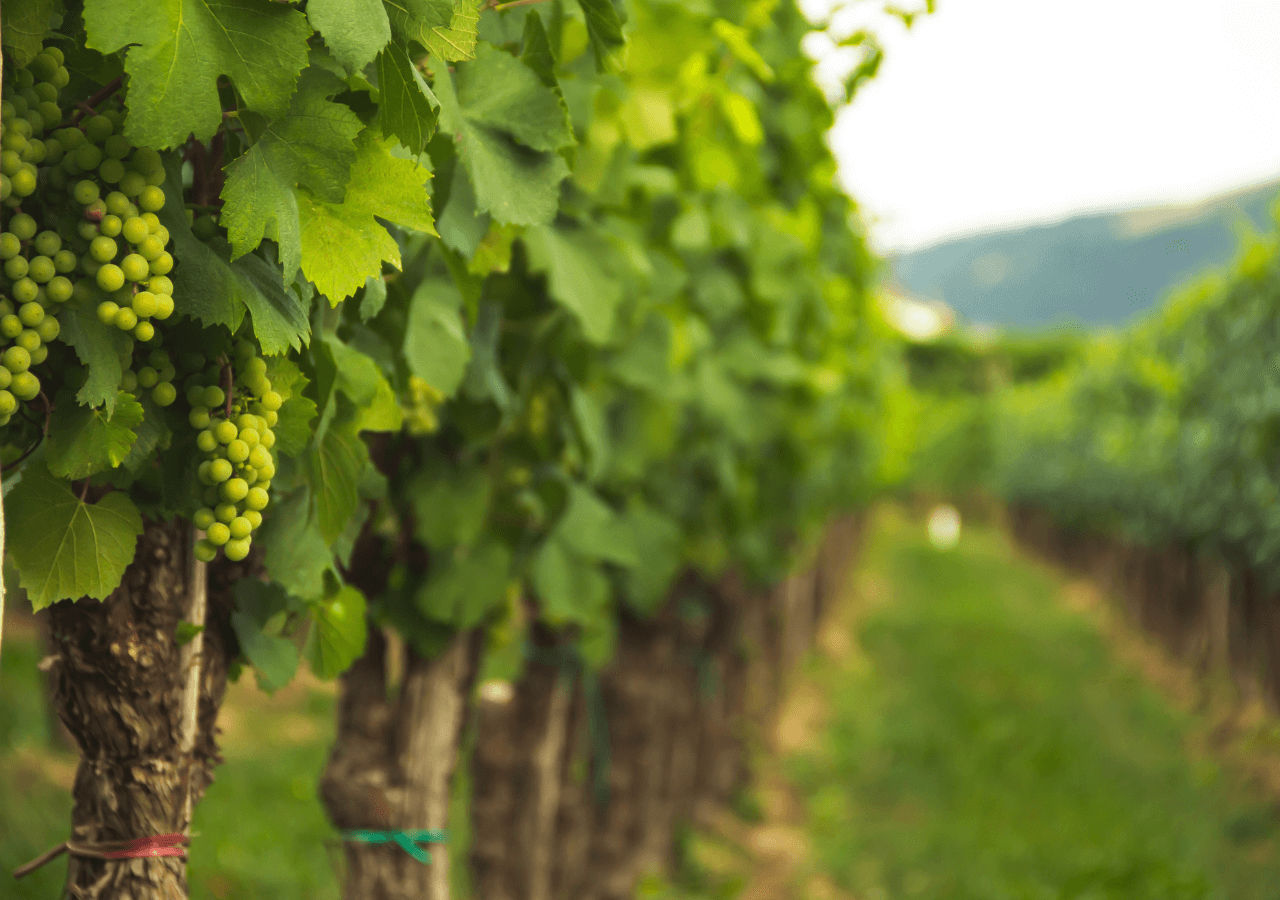 Photo by Alex Gorbi on Unsplash
Kitsch Winery
Location: East Kelowna
Specialty: Pinot Noir, Riesling, Chardonnay
Vibe: Playful, colorful, trendy
If you are still waiting for a stylish garden party invite, just come to Kitsch Winery instead. This estate feels like walking into someone's upscale summer home with a pool, lounge chairs, a picnic table, and a giant expanse of vines to look out at as you sip some lovely varietals.
Kitsch Focuses on producing wines best suited for the Kelowna climate, like Riesling, Chardonnay, Pinot Noir and Pinot Gris. Find the perfect time to enjoy these wines by looking at their event list – from unique live music to markets to yoga retreats to educational days, Kitsch has a surprisingly diverse array of experiences they support.
Kitsch believes in home-grown, sustainable practices and puts their money where their mouth is with a partnership with Veritree to help restore climate solutions. Every bottle you purchase plants five mangrove trees in Madagascar.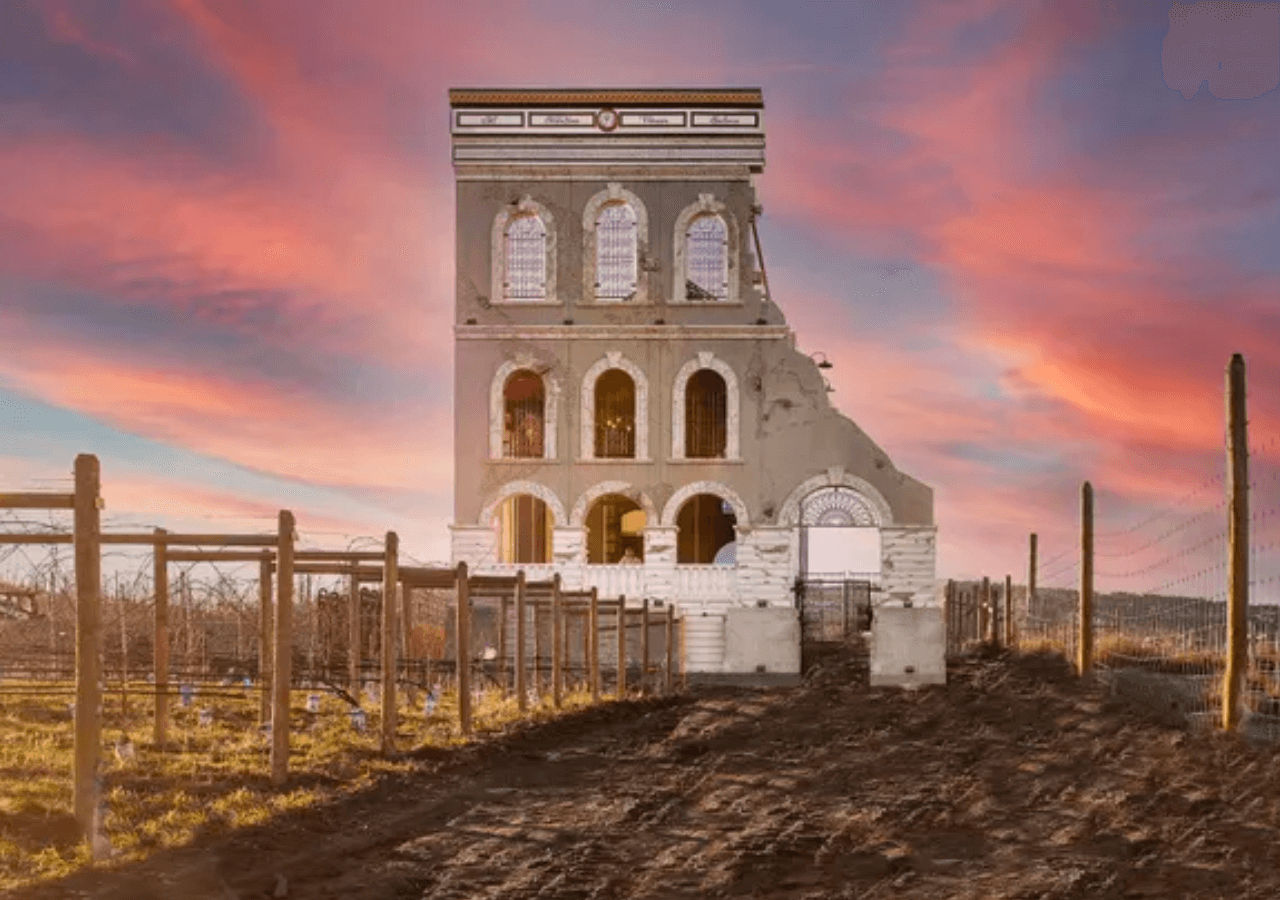 Crown & Thieves
Location: West Kelowna
Specialty: small production cult wine that pushes the limits of winemaking
Vibe: Unique, historical, playful
Visit on the Wicked Wine Express Tour!
Potentially one of the most popular and well-known wineries in Kelowna, Crown & Thieves should not be missed.
You can see the personality bursting from this winery the second you see the building – a faux-crumble-down facade is your first view as you step into this winery with bottles "made by scoundrels, and sipped by royalty." These award-winning wines have names like "Pinky Blinders" and "Winemaker's Wench" to lean into the theme.
The award-winning winery isn't the only thing within these walls. The Angel Share restaurant takes share plates to the next level with buffet-style sizes and big platters of food for family-style meals. Take a trip downstairs, and you'll find a prohibition-style speakeasy that will transport you right into the game Clue.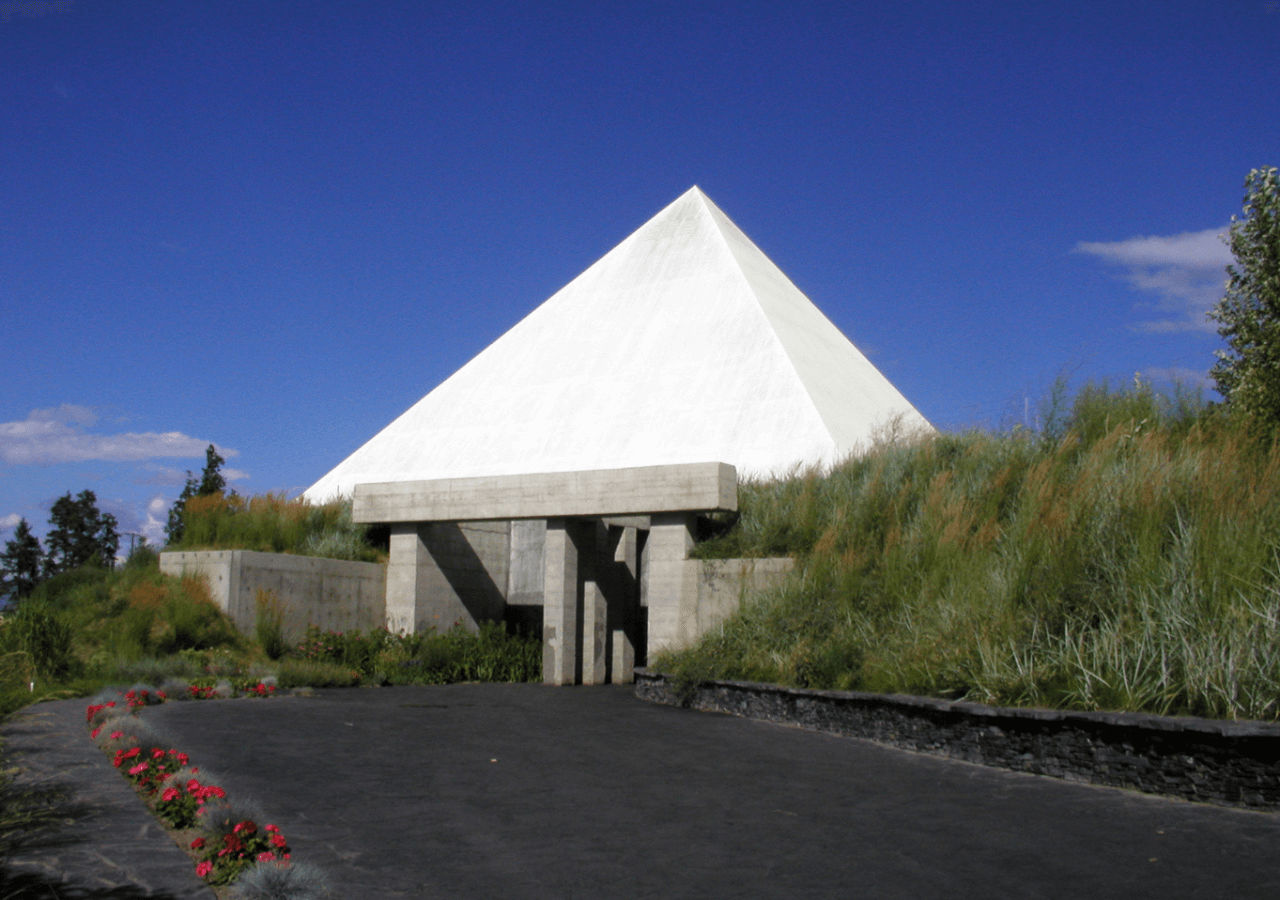 Courtesy of tourismkelowna.com – Jose Antonio Lopez
Summerhill Pyramid Winery
Location: Southwest Mission
Specialty: Organic and biodynamic wines
Vibe: Zen, Creative
When you see the giant sculpture of wine pouring into a glass, you've made it to SummerHill Pyramid Winery. This Kelowna winery is a great place to connect with people and spend a weekend enjoying the views with estate house lodging.
SummerHill is an excellent option for people who prioritize sustainability, with vegan, organic and biodynamic options. True to its name, all of their wines are aged in their pyramid found on the grounds – this is what they believe to be their secret weapon in producing stunning wines.
You can walk to the pyramid and conduct a self-guided tour of the mysteries and history within. They even host equinox and solstice celebrations with group meditation, potlucks and dancing.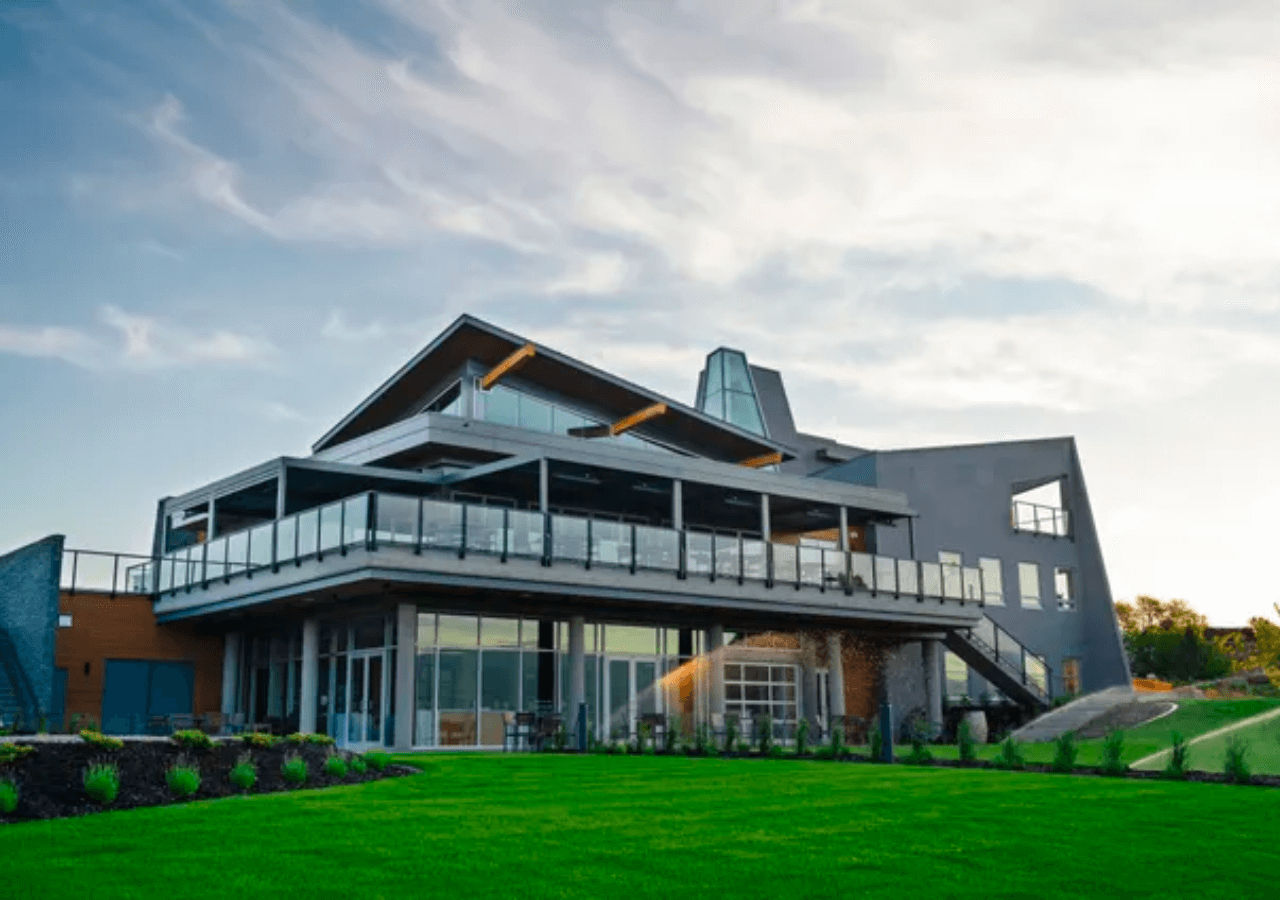 Mt. Boucherie Estate Winery
Location: West Kelowna
Specialty: Pinot Noir, Gewürztraminer, Zweigelt
Vibe: Modern, welcoming
Visit on the Grapes & Gastronomy Wine Tour!
The stunning and airy Mt. Boucherie Estate Winery has 360 views of the Okanagan Valley with giant wall-to-wall windows and a love for natural light. The modern design of the facilities creates a stylish and sleek ambiance that will make you want to stay for hours.
Their tasting flight includes a selection of wine styles from Mt. Boucherie, featuring multiple styles of white and red. You can also add a delicious charcuterie board to pair with your flight of five stunning wines.
One of the main draws to this estate winery is the dining experience you can find here. The Modest Butcher can seamlessly pull off casual fare with share plates and apps or fine dining with choice cuts of meat and fresh seafood.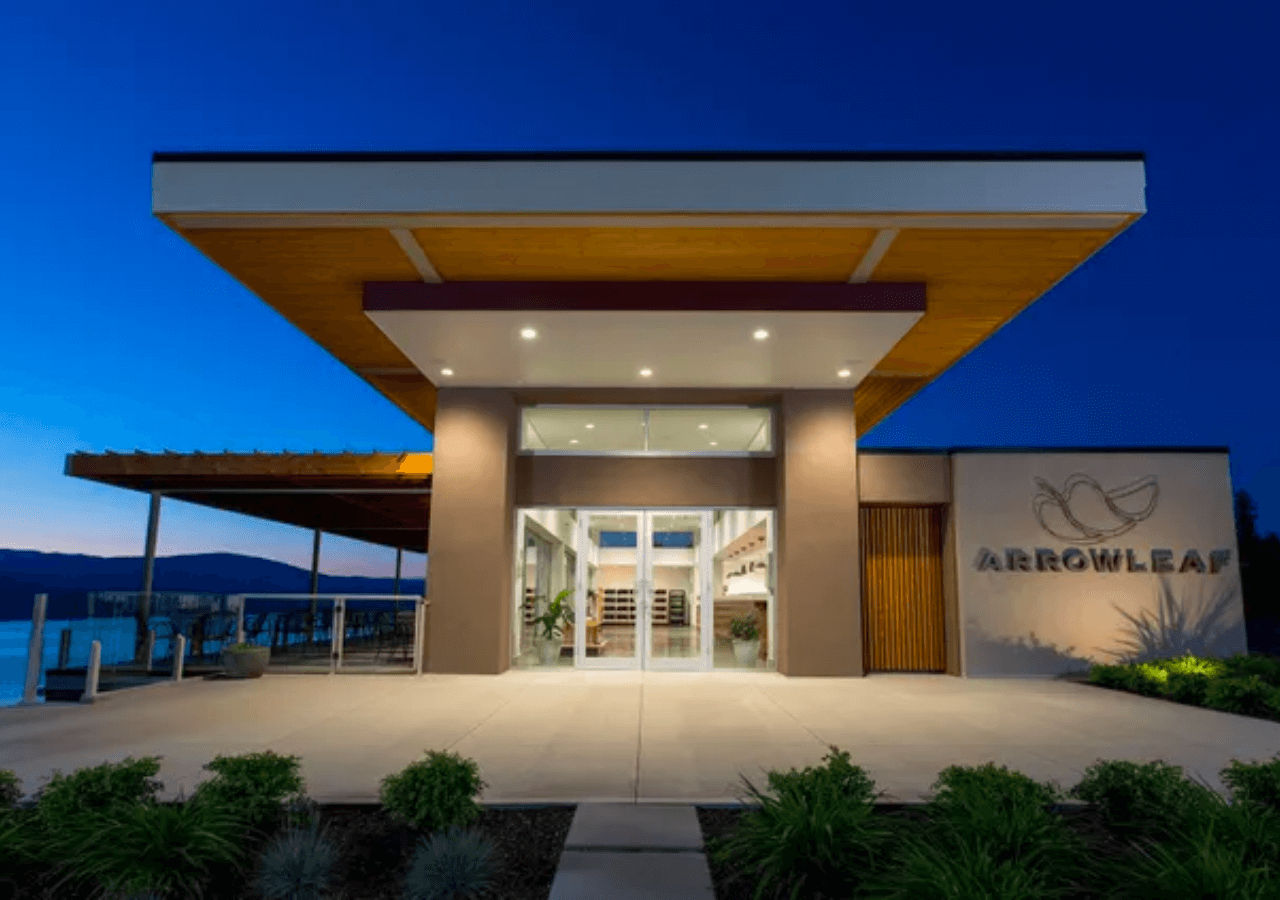 Arrowleaf Cellars
Location: Lake Country
Specialty: Riesling, Pinot Noir
Vibe: Elegant, timeless
Visit on the Vineyard Vixens Wine Tour!
Arrowleaf Cellars is the definition of style with modern-yet-classic designs and simple elegance. This Kelowna winery prioritizes sourcing hyper-local supplies of quality grapes, with over 90% grown in Lake Country and 10% in the Kelowna area.
This Kelowna winery caters to all types of guests with a welcoming tasting room, an area for private and intimate group tastings, and a family-friendly picnic area.
Arrowleaf is so passionate about the winemaking process they even offer wine classes so that anyone can tighten up their skills and knowledge in the world of wine. And if you thought it couldn't get any better, every summer weekend is a "cream puff weekend," with these delicious snacks made fresh in-house.
We know – your Kelowna winery bucket list just got a lot longer. If you need help planning your wine-de-vu through the best wineries in Kelowna, reach out to our team! With private wine tours and endless party expertise in the area, you're in great hands.