If you have a Kelowna wine tour to plan, you have a big decision to make.
Que The Bachelorette theme song: the Kelowna wine tour operators are all lined up, ready to accept a rose from you and your wine tour group… Who are you going to choose for this exciting adventure?
A tour we think you'll love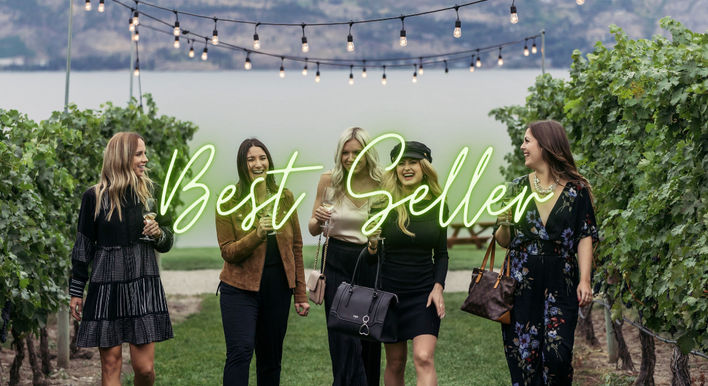 West Kelowna Wine Tour
From CA$149
View tour
There are several Kelowna wine tours to consider, and it's up to you to decide which one will give you the absolute best time rolling through the best vineyards in the area. Here are some important questions to ask when finding a Kelowna wine tour!
Important Questions to Ask When Choosing the Best Wine Tour in Kelowna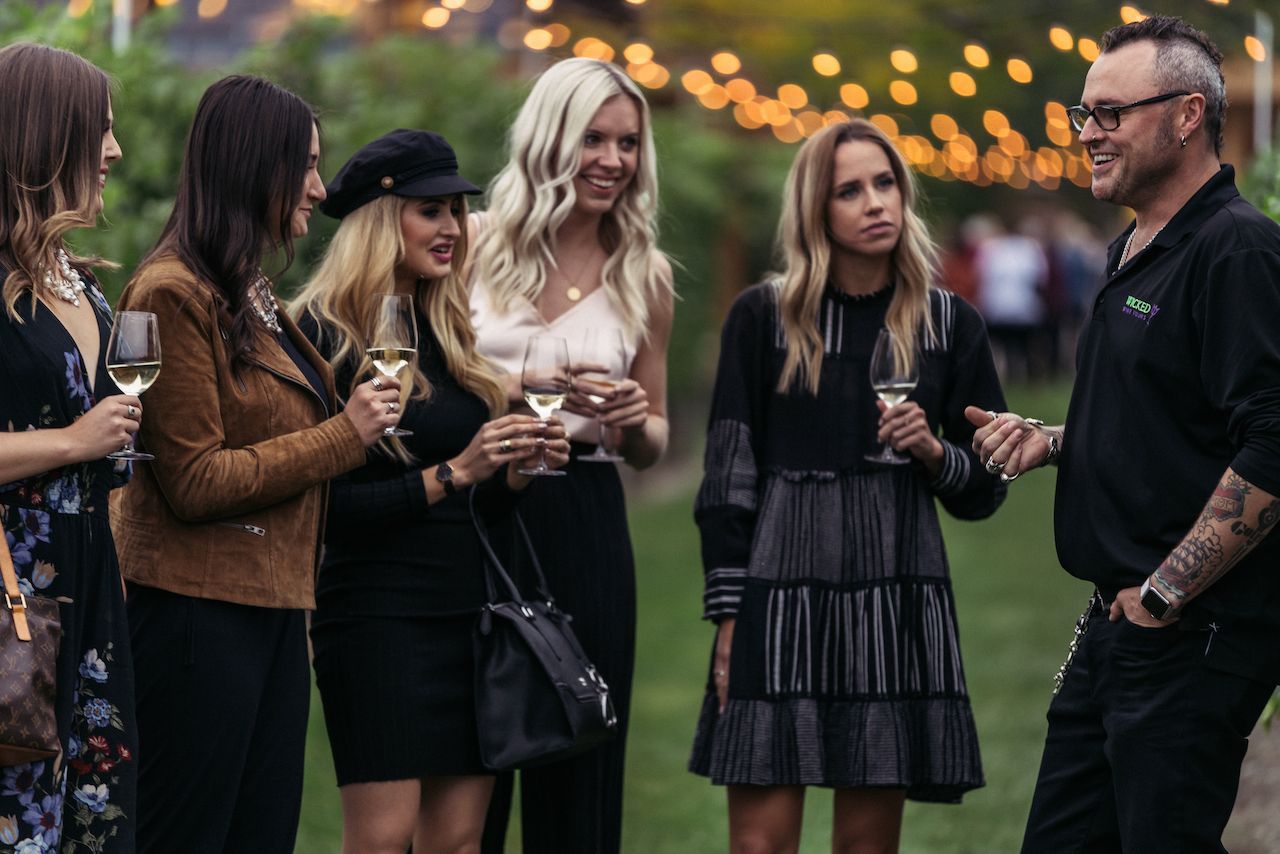 Does the Wine Tour Company Prove Their Expertise?
Are they actual wine experts who can offer custom recommendations and share accurate information on the history of the wine in this area, or are they simply a winery transportation service?
Many newer wine tour companies are popping up (less than five years old – hardly kindergarten age!) that still need to build a solid foundation of knowledge of the area. Working with a company that spent several years becoming experts in all things Kelowna wine offers a much more elevated experience.
Wicked Tours has been around since 2014, and the owner has been in hospitality most of his life. Our experience and local reputation are sterling because guests can trust their visitor experience with one of the area's most well-established wine tour companies.
What Wineries Does the Kelowna Wine Tour Visit?
Let's keep it simple – great wine tours take you to great wineries.
When choosing the best Kelowna wine tour, you should always look at the list of wineries on the docket. Some tours may take you to more formal, upscale wineries; others may prioritize laid-back, casual spots. Some may have a great mix of both (our favourite way to plan a tour).
Kelowna wineries run the gamut on style, wine specialties and more – what kind of tour are you looking for?
Spoiler: If you see some of these award-winning wineries on your Kelowna wine tour, you're starting in a great place!
What Do The Reviews Say?
People talk – and while some reviews are an eye-roll ("Beach was too darn sandy – one star"), some can be completely helpful.
People who have already experienced the tour will helpfully share some highlights and areas for improvement in their reviews so you can decide for yourself if the details match your needs. For example, if you look at our reviews (5-star average, but who's counting…):
"My favourite part of the tour was the great learning experience at the wineries that explained their heritage, explained pairing and were passionate about sharing their knowledge." – Angie

"Exceptional was the extra "tour" that Dave included in the last winery (Crown of Thieves), which made it even more special for us." – Arnold

"Book early! I waited till the day before, and the most popular tours of West Kelowna were full." – ScotAlberta
From helpful advice to specific details of the experience, these reviews will paint a picture of what the tour is ACTUALLY like.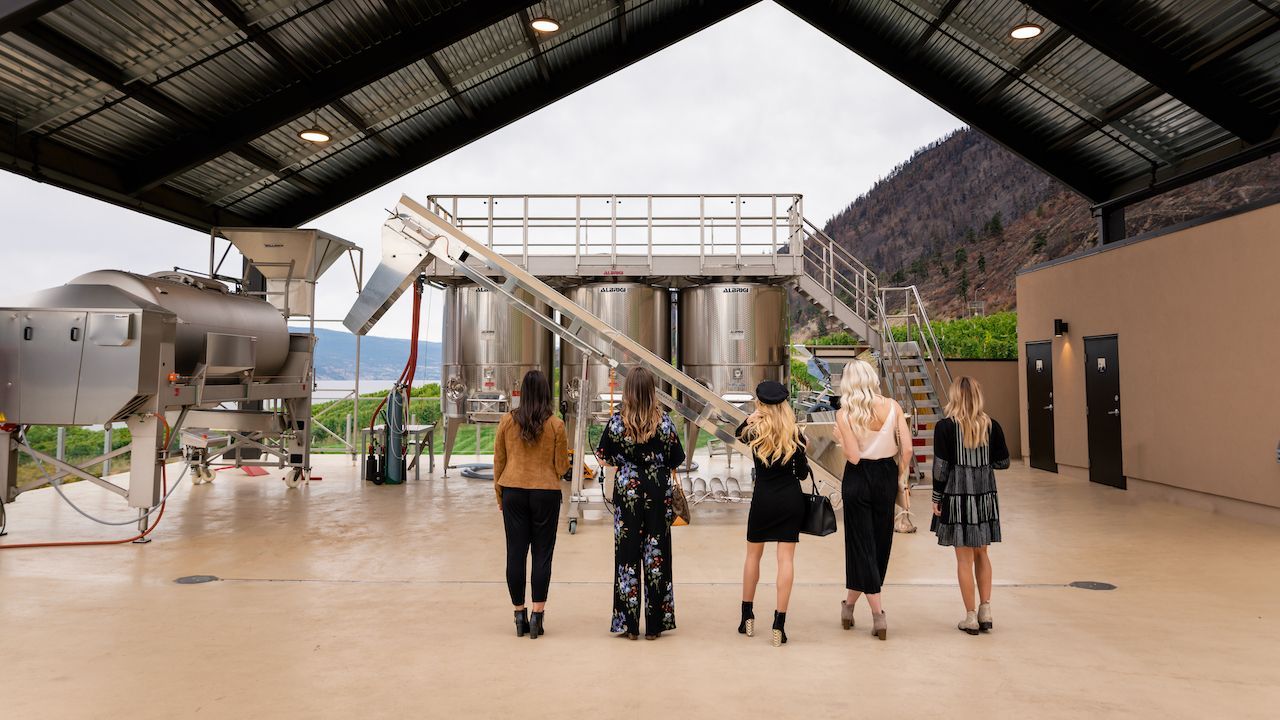 How Much Time Is Spent at Each Winery?
This is a delicate balance – Some tours only fit 2-3 wineries on their tour, which sometimes feels like too much time and not enough variety in the wineries. Others may rush you, so you think you must down your wine flight like a beer at a uni house party. Neither of these options is ideal!
Wine tours (like ours) fit four or five wineries into one tour, so you can get great diversity in views, wines and Kelowna history without feeling too rushed. We spend an average of 30-45 minutes at each winery, which is enough time to enjoy a tasting, explore the grounds and learn about the winery's history.
Are Tasting Fees Included?
The last thing you want to learn about when you enjoy a day of wine and enjoyment is a bunch of hidden fees. Great Kelowna wine tours include extra prices in the experience, so you don't need to worry about logistics.
Our West Kelowna Wine Tour Includes:
Wine-tasting experiences at four West Kelowna wineries

Pick-up and drop-off at your accommodation

Round-trip transport in a Ford Transit or Lincoln Navigator

Complimentary bottled water

Winery Tasting Fees

Wicked Wine Concierge (which is always on hand and carry, label, and organize all of your purchases. They are also your go-to for any special requests!)
The only things that may come up that aren't included are gratuities and lunch.
The more things included in the original pricing, the fewer times you have to pull out your credit card during the tour.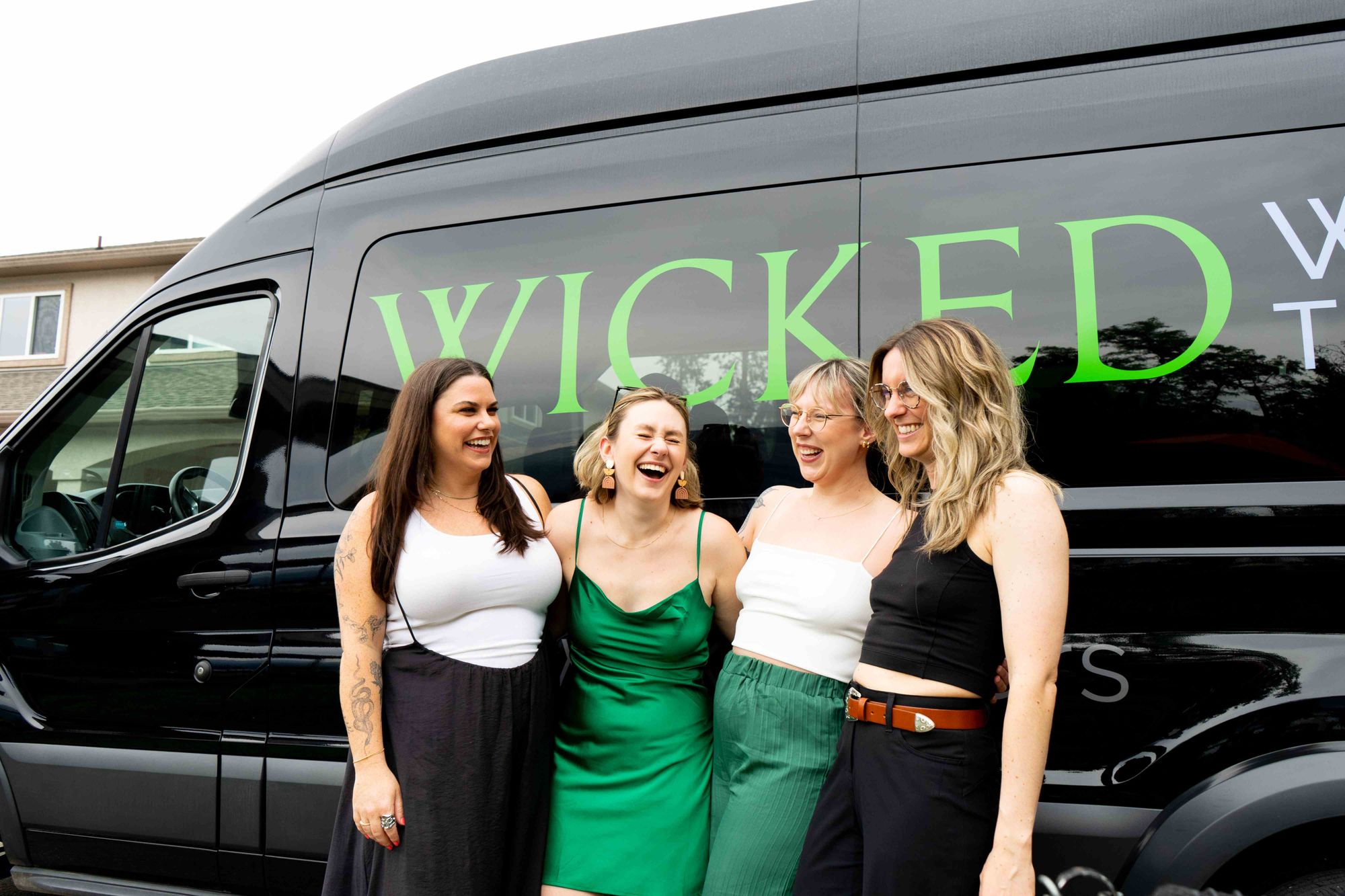 What is the Energy of The Tour?
While many wine tours are heading to the same wineries, they are different experiences! Some keep an upscale air to them. Others may like to focus on the history and education of wine. Others may feel like one big casual party from start to finish. What wine tour vibe are you looking for?
Most wine tour operators are good at communicating their wine tour vibe through their website and social media – check it out and ensure it complements your group makeup and personality.
How Many Types of Tours Does the Wine Tour Operator Offer?
While we can try our best, creating a single tour perfectly tailored to all group types is tough. So, when a tour company has multiple tours to cater to different experiences, it's a total green flag.
For example, we offer several tours, each with specific specialties, winery schedules, additional experiences and locations. Whether you're looking for a luxury private wine tour, a bachelorette-themed wine tour or the ever-classic West Kelowna Wine Tour, we have a blast offering different experiences to all other groups.
Are There Tours That Include Dining Options?
Nothing pairs with a great glass of wine quite like a nice meal. Does your Kelowna wine tour include dining options?
Wine tours with a stop for lunch can save you time and mental energy trying to plan the inevitable post-wine tour hangriness that can put a shadow on an otherwise perfect afternoon.
Many of the wineries have phenomenal dining options – and when it is built into your Kelowna wine tour schedule, it feels much more special.
How Do They Price Their Wine Tour?
The age-old expression is true – you get what you pay for.
If you are looking for a budget option, you'll probably end up with a budget tour. Maybe you don't stop at as many wineries, the transportation isn't upscale, or the wine tour guide isn't a 10/10. If you pay a premium, you'll get more out of the experience – like enjoying a private tour, luxury transportation and tour customization.
It's up to you to decide what you are looking for!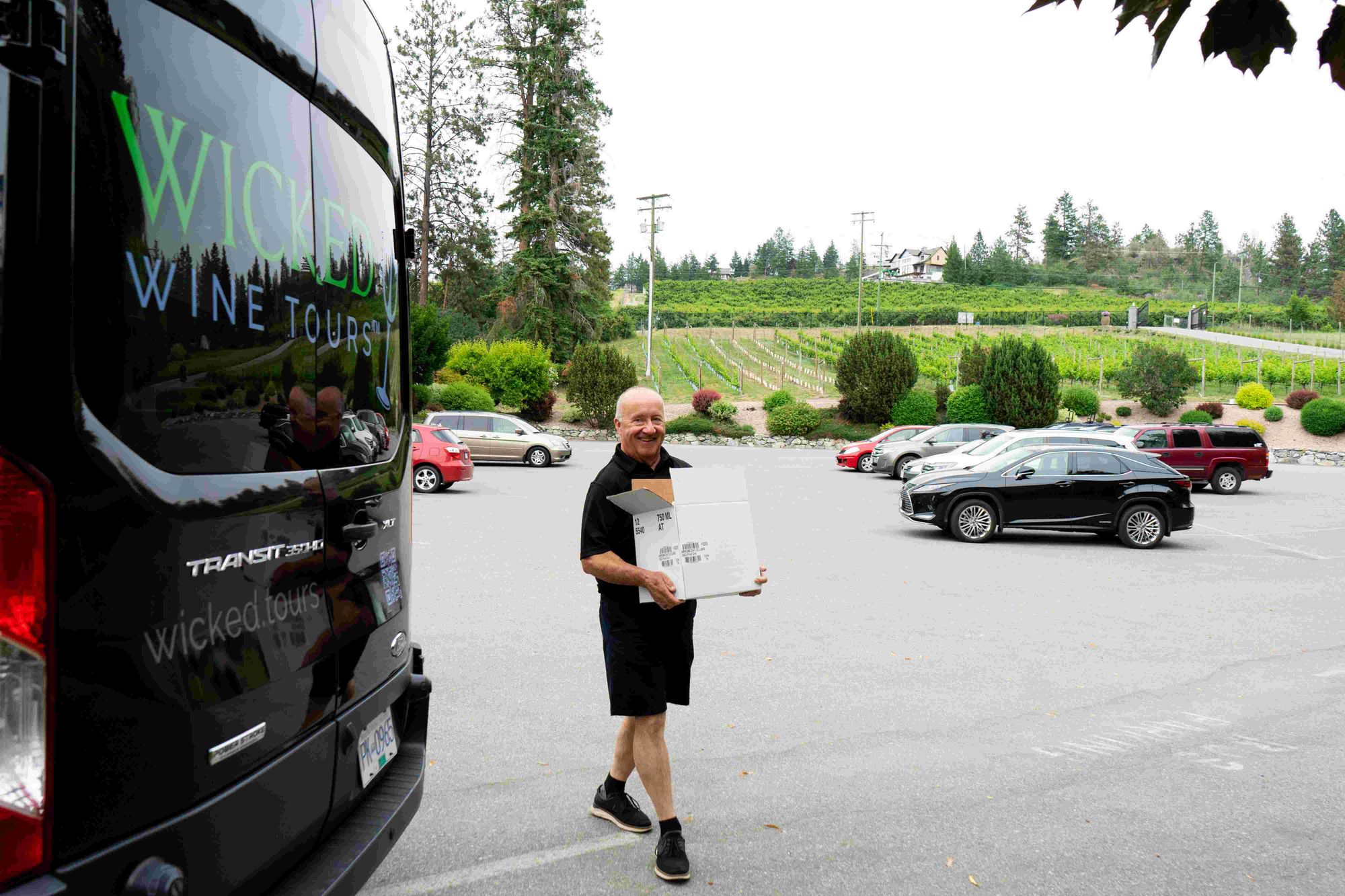 Can You Buy Wine on The Tour?
How frustrating would it be to have a taste of the good life but not be able to bring some home? We highly recommend choosing a tour that confirms you can take bottles home after your trip!
You'll taste many fantastic wines – and we promise you'll want to take some home.
Our wine tours take you to wineries where you can take your favourite wines home to enjoy later. We also sell specialty wine shipping boxes on tour, and guests can pre-order them when booking.
What Is Their Digital Presence? (Website, Social Media, Press)
It's no secret that you can learn a lot about different wine tours by how they present them online. There are so many ways to research each company and so many ways for a company to share info and stories about their tour.
Wine tour operators with new websites, active and engaging social media accounts and lots of press will always seem more excited about planning wine tours than those not active online.
Social media has its downfalls, but you can't deny a company's passion for wine tours when you see videos, pictures, articles and press proving how much fun people have on the tours. It's also a great way to see what kinds of people are having fun on these tours. Do you see older individuals? Large groups? Couples? Bachelorette parties? You can discover what tour operator caters to groups like yours.
What is the Wine Tour Transportation?
Wine tours can have quite a bit of transportation time, so it may as well be another fun and exciting part of the tour.
The vibes of the transportation are almost as important as the wineries themselves! Being on a dirty, hot or stuffy ride won't feel good after a couple of glasses of wine in the summer. Make sure to check out how the wine tours are getting you from place to place.
We highly recommend choosing a place with a roomy, air-conditioned, comfortable ride that pumps excellent music and keeps the good times going in between wineries.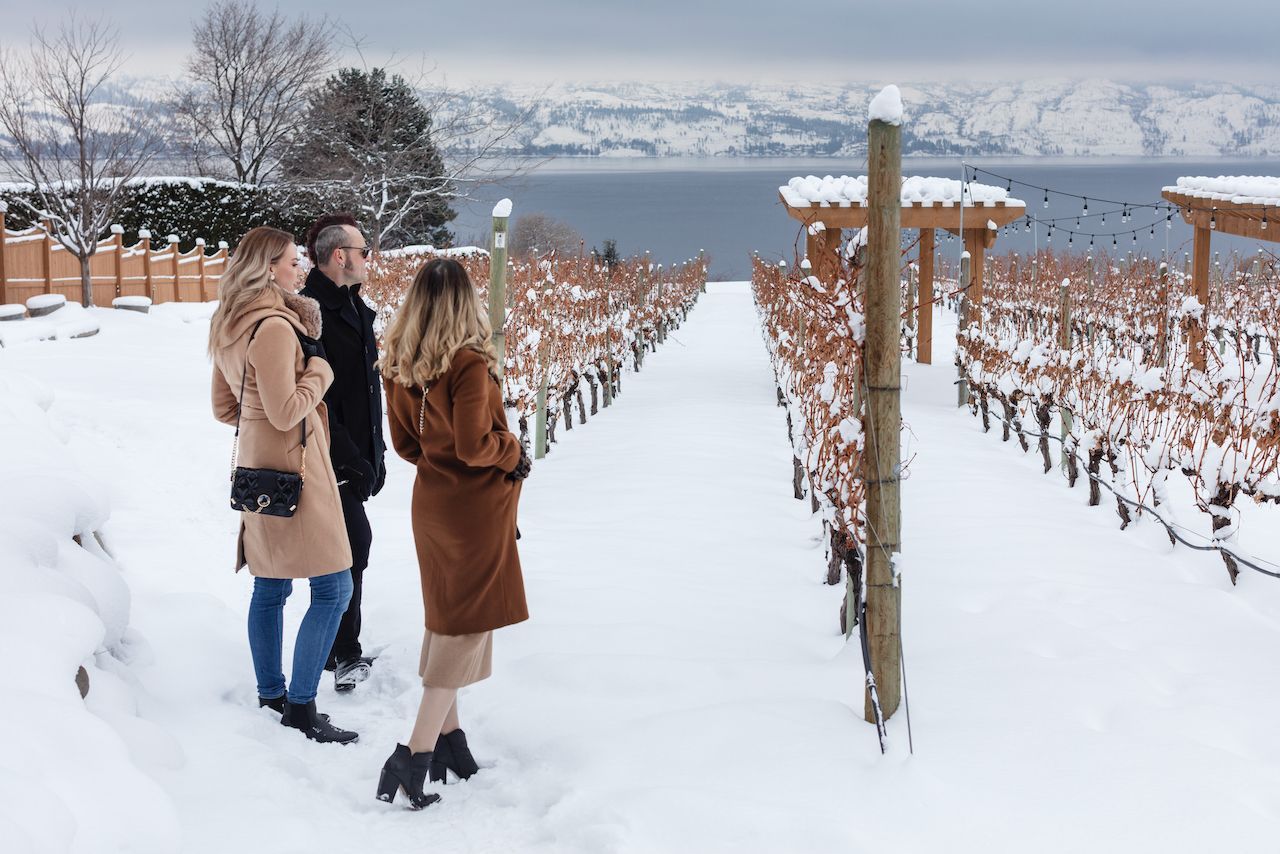 Do They Offer Tours Year Round?
Wine tours may seem exclusive to summer and early fall, but wine tour companies that can't get enough of the wine life aren't sticking to that narrative. Even if you visit Kelowna in winter, you don't have to miss out on the fun. In fact, winter wine tours offer a unique experience.
Tastings and wine options are often exclusive and unique to the winter season. Guests on winter tours may experience behind-the-scenes and intimate tours or conversations that aren't feasible during the more crowded summer tours.
We offer tours year-round, and each season has a unique draw. Why not try them all?!
What Kelowna wine tour deserves your attention? Not to toot our own horn, but we'd like to throw ourselves into the ring. Contact our team if you need help planning your wine-de-vu through the best wineries in Kelowna! You're in excellent hands with private Kelowna wine tours and endless party expertise in the area.