At Wicked Tours, we're wine experts, but we know Kelowna just as well. Check out our list of what to do in Kelowna next time you visit!
---
A tour we think you'll love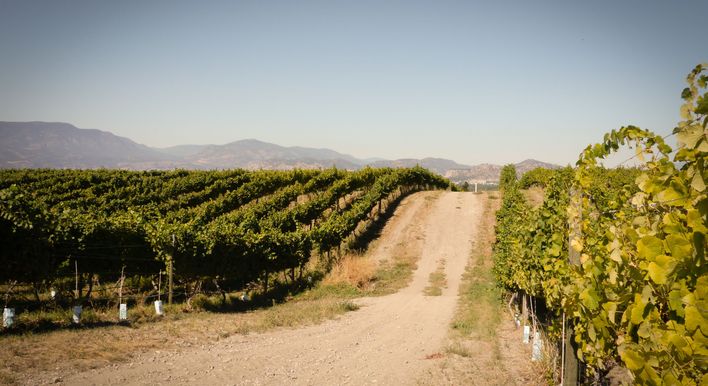 East Kelowna Wine Tour
From CA$149
View tour
One-day Itinerary for Visiting Kelowna, BC: Recommendations from a Local Expert
If you've only got one day in Kelowna, you want to make the most of your time here. Wicked Tours is based in the city's heart, so we know all the must-see spots and must-do activities that go into the ultimate one-day itinerary.
We pride ourselves as the best half-day and full-day wine tour provider in Kelowna, BC. But there's more to us and our city than wine, so some tours include visiting a cidery or distillery.
Our tour packages highlight many trips to Kelowna, so don't hesitate to get in touch with any questions.
For now, though, we focus on our recommendations for a one-day itinerary that takes in the best of the place we call home.
---
Start Your Day with an Easy Hike Up Knox Mountain
There's no better way to start your day in Kelowna than to get your body moving and fill your lungs with fresh air. Hiking up Knox Mountain, north of downtown, is the perfect way.
The summit is 300 meters above Okanagan Lake's high-water level, and the marked trails aren't overly strenuous.
The gentle route to the top leads to spectacular views across the city, lake, and mountains.
---
Or Consider a Morning Cycle in Myra Canyon
Does cycling in a beautiful canyon hold more appeal? A morning ride in Myra Canyon makes a great alternative to hiking up Knox Mountain.
The trail is part of the disused Kettle Valley Railway (KVR). Highlights along the path include 18 trestle bridges and two tunnels, all set against the stunning backdrop of a steep-walled canyon.
Myra Station has located 24km from downtown Kelowna. The scenic 40-minute drive there takes you past golf courses, farms, orchards, and vineyards.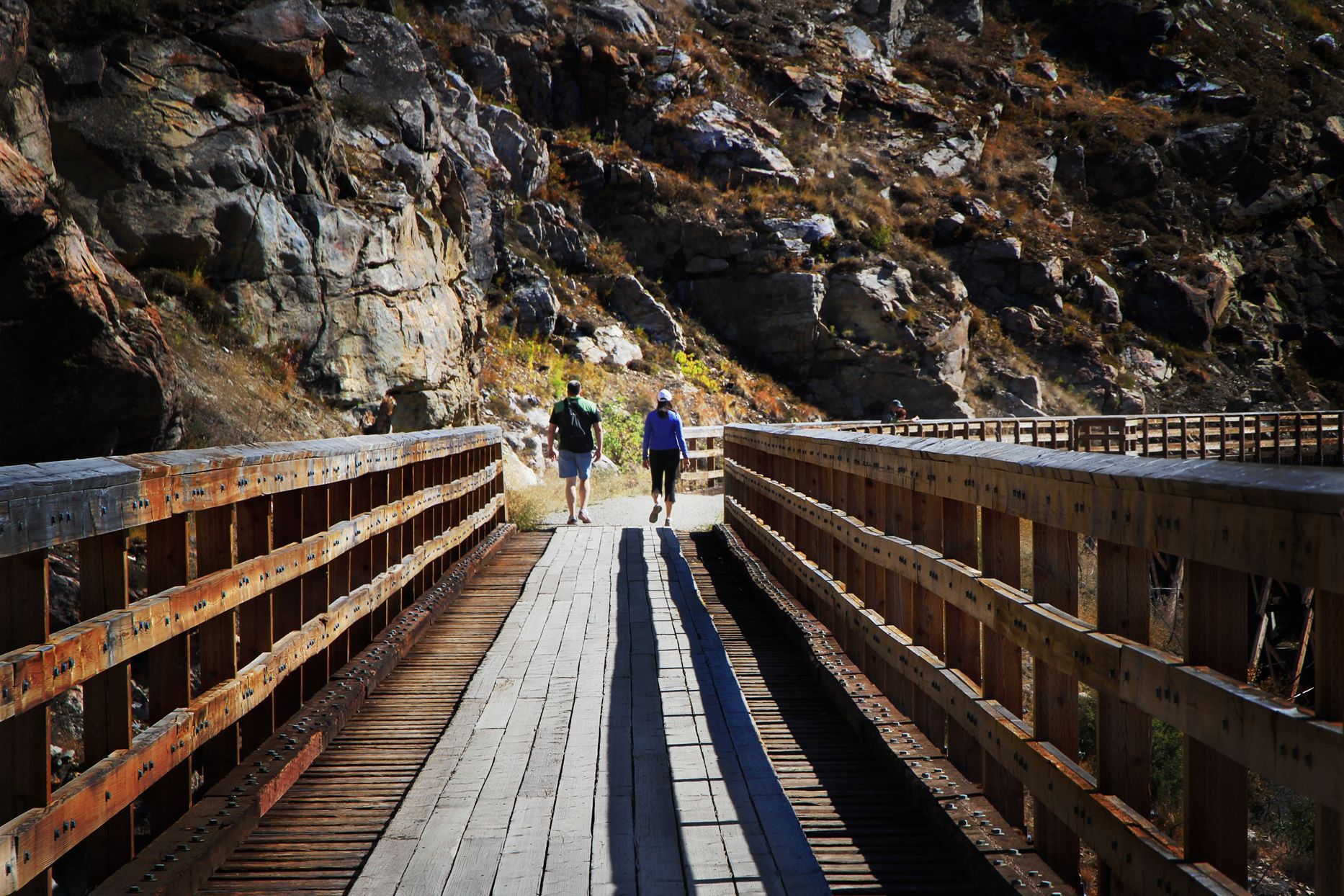 ---
Take a More Relaxed Approach with a Half-Day Wine Tour
We get it — jumping out of bed and heading out on a hike or cycling through a canyon first thing in the morning isn't everyone's idea of fun. And that's fine!
If you prefer a slower pace in the AM, why not build up to one of our half-day wine tours?
Our half-day wine-tasting and tour packages include wine tours in West Kelowna, East Kelowna vineyard tours, and Okanagan Lake Country wine tours.
Morning tours start at 10:30 AM and finish at 1:30 PM, while afternoon tours last from 3:00 PM to 6:00 PM.
At Wicked Tours, we can guide you through the unique boutique wineries of Kelowna, many of which are family-owned and operated. Throw in beautiful scenery like scenic lake views and rolling vineyard hills, not to mention relaxed conversations with winemakers themselves, and you're guaranteed a fun, funky, and enlightening time.
---
F
ill Up on Lunch at DunnEnzies or Central Kitchen
However you spend your morning, choosing the right place for lunch is vital to any one-day itinerary for visiting Kelowna. Luckily, we have two standout recommendations!
If you're craving cheese and carbs, make a beeline for DunnEnzies. This award-winning pizza place has two restaurants in the city: DunnEnzies Pizza Downtown and DunnEnzies Pizza Mission.
The downtown location is in the heart of the city. It has on-demand slices, takeout, delivery options, and a great selection of beer, wine, and cocktails.
DunnEnzies Pizza Mission is south of downtown and has a substantial backyard-style patio with a 185-year-old London Plane tree. Visitors can find specialty cocktails, wine, beer, tacos, salads, and fantastic pizza!
Central Kitchen is another great downtown restaurant to grab lunch at. This spot was officially voted Kelowna's best burger, specializing in classic bar food. With a patio and full bar, it's an ideal location to kick back for an hour or two.
---
Head to Waterfront Park in the Afternoon
It's easy to overindulge at either of our recommended lunch spots, so walking to and around Waterfront Park is a great way to burn off some of that food.
Located a stone's throw from Central Kitchen and a short walk from DunnEnzies Pizza Downtown, Waterfront Park has a photogenic lakefront location with green expanses, cascading falls, swimming areas, and scenic views.
The Waterfront Boardwalk offers an easy 2km walk beside Okanagan Lake, leading to Tugboat Beach. There aren't many better places to ease into the afternoon with golden sand, inviting water, paddle boat rentals, and much more.
Are you heading here in the winter? Take a look through our Top 5 Winter Activities in Kelowna.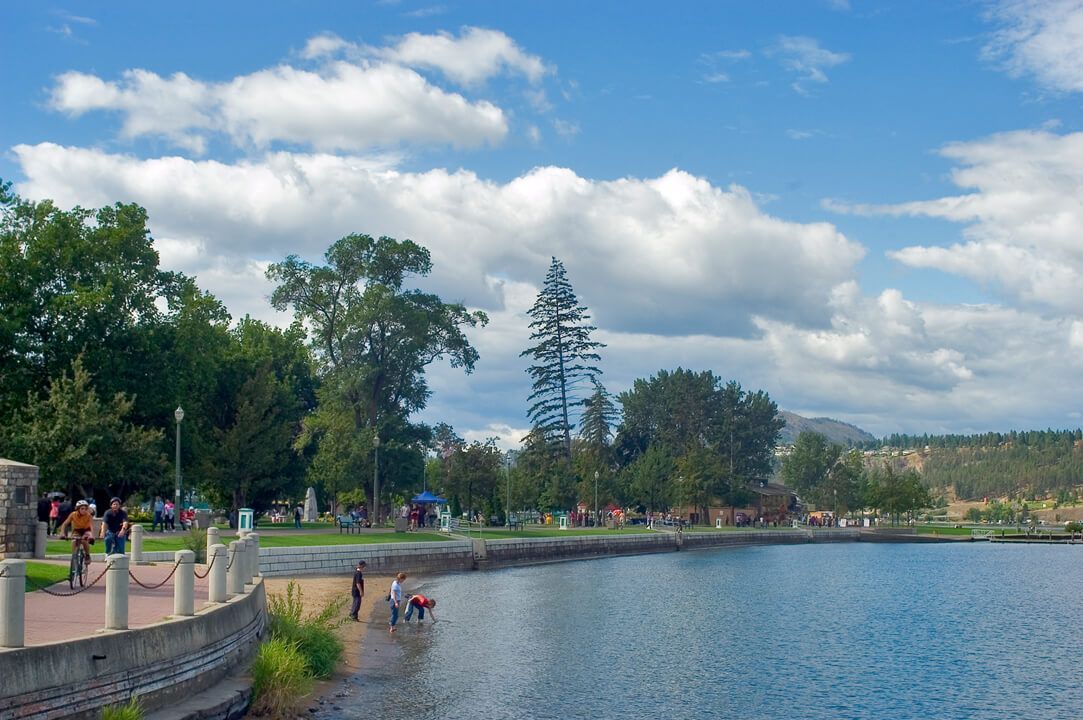 ---
Stroll and Shop on Bernard Avenue
If you're unfamiliar with Kelowna, Bernard Avenue is the heart of downtown. This part of our city has long been a commercial and cultural hub. Today, it's an exciting waterfront location lined with heritage brick buildings.
Bernard Avenue is a great place to pick up a thoughtful souvenir and, while away for a few hours, packed full of shops, restaurants, bars, and cafes.
Bernard Avenue becomes entirely pedestrianized in the summer from St. Paul Street to Okanagan Lake. The space fills with restaurant patios, programs, performances, art installations, and more.
---
And Stop Off at Parlour for Incredible Ice Cream!
You'll find Parlour Ice Cream at the corner of Abbott Street and Bernard Avenue. You can thank us later!
The team at Parlour makes small-batch ice cream flavours by hand using locally-sourced ingredients.
The result is pure creamy goodness and the perfect afternoon snack.
---
Explore Downtown for Dinner, Cocktails, and Live Music Venues
The saying goes that fine wine and good food go hand-in-hand. Given the Okanagan Valley's reputation for premium wines, it's no surprise that our downtown area also has an impressive culinary scene.
So when it comes to dinner, there's something for all tastes here, from comforting pub-style eats to freshly caught fish served al-fresco at your table.
Check out our Guide to Restaurants in Kelowna for help making your choice.
And there's as diverse a range of options for evening cocktails — or any other drink you prefer! Whether you want to dress up for sophisticated sipping or let loose after a long day, there's a spot for everybody!
Read through Our Favourite Places for Drinks in Kelowna for a taster of what's on offer.
And round off your Kelowna one-day itinerary with some live music! Like the food and drinks, the place you like best will depend on your taste.
A brief run-through of great places includes Fernando's, O'Flanigan's Pub, Doc Willougby's Public House, Milkcrate Records, Friends of Dorthy Lounge, Blue Gator, The Curious Cafe, and many more!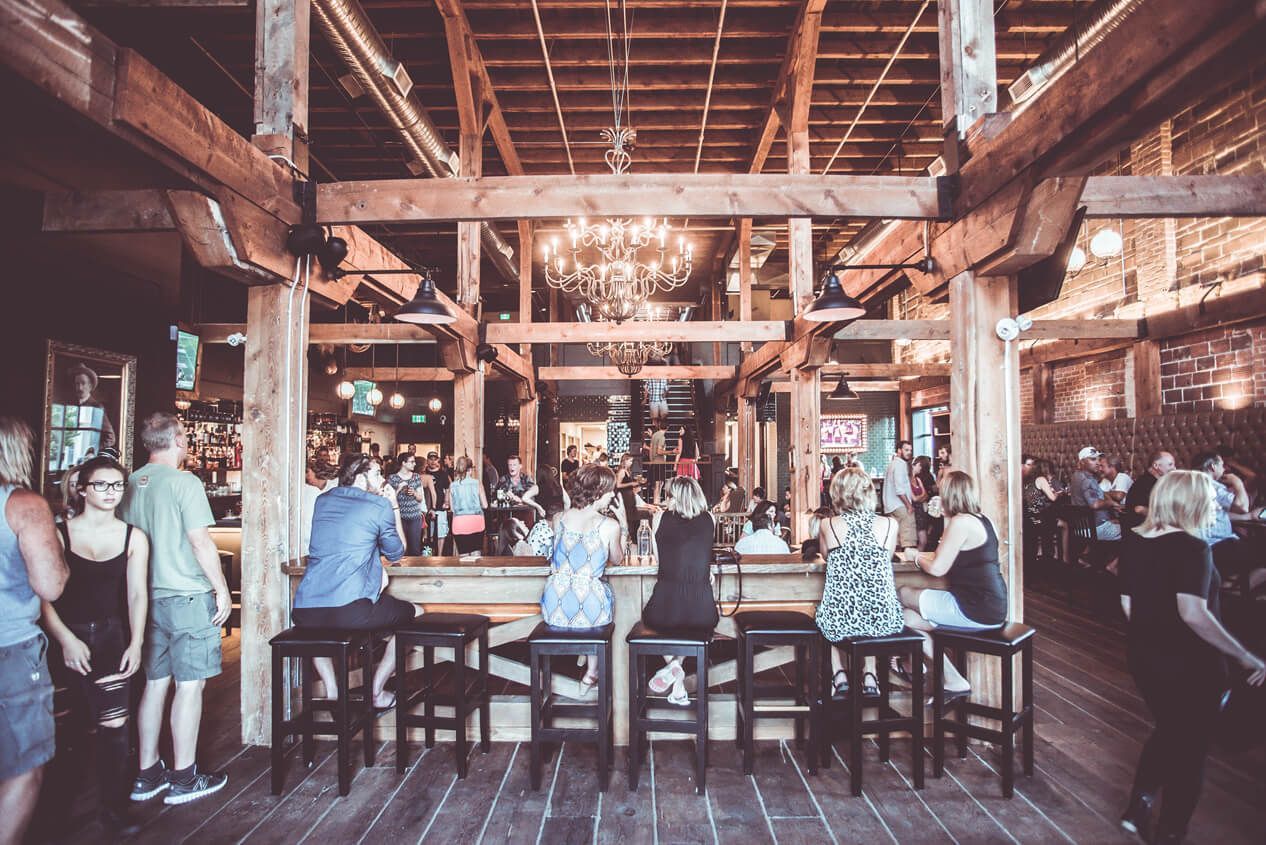 ---
Unlock the Real Kelowna with Okanagan Valley Tour Specialists
We hope this blog gave you a good taste of what to do in Kelowna and have you counting the days until you arrive!
At Wicked Tours, we love helping people create unforgettable memories in the heart of Canada's best wine region.
And don't think we're biased when we say that! In 2019, the Matador Network listed the Okanagan Valley in Kelowna as one of the "most exciting places to travel to drink wine."
Our award-winning range of wine tours provides the perfect gateway to experiencing everything Canada's premier wine country offers. Please get in touch for more information about any of our tours.