Looking for the best outdoor dining in Kelowna? From patios with epic lake or vineyard views to backyard beauties… it's all here from Wicked Tours.
---
A tour we think you'll love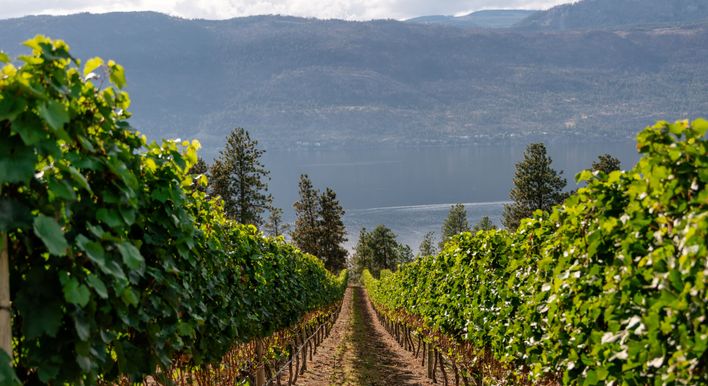 Lake Country Wine Tour + Lunch
From CA$179
View tour
When it's summertime and living's easy, get to these patios in Kelowna. Embrace the sunny season as you taste your way through our local wines and bites.
This one is for those who consider themselves "outdoorsy" when sitting in the sun with some fizz.
You're our kind of person!
If you live in Okanagan, you may find a new patio in Kelowna this weekend.
If you're visiting our gorgeous wine country, come #getwicked with us on one of our award-winning Wicked Tours, and we'll take you to some of these best patios in Kelowna and the whole Lake Country area.
Our taste in epic views, exceptional experiences, and wicked wines is unparalleled. So check out all our favourite recommendations below!
If your weather luck runs out and you need to head indoors, check out our favourite restaurants in Kelowna for a broader range of options year-round.
For now, drool over these outdoor dining options in Kelowna (and nearby)…
The Lookout at Gray Monk
Head to Lake Country, and you'll be rewarded with stellar winery views from The Lookout Restaurant at Gray Monk Estate Winery.
Panoramic vistas include unbeatable rows of vines and on toward Okanagan Lake.
As far as Kelowna outdoor patios go, The Lookout offers the works. Think: retractable awnings and heaters to extend the summer vibes as long into autumn as possible.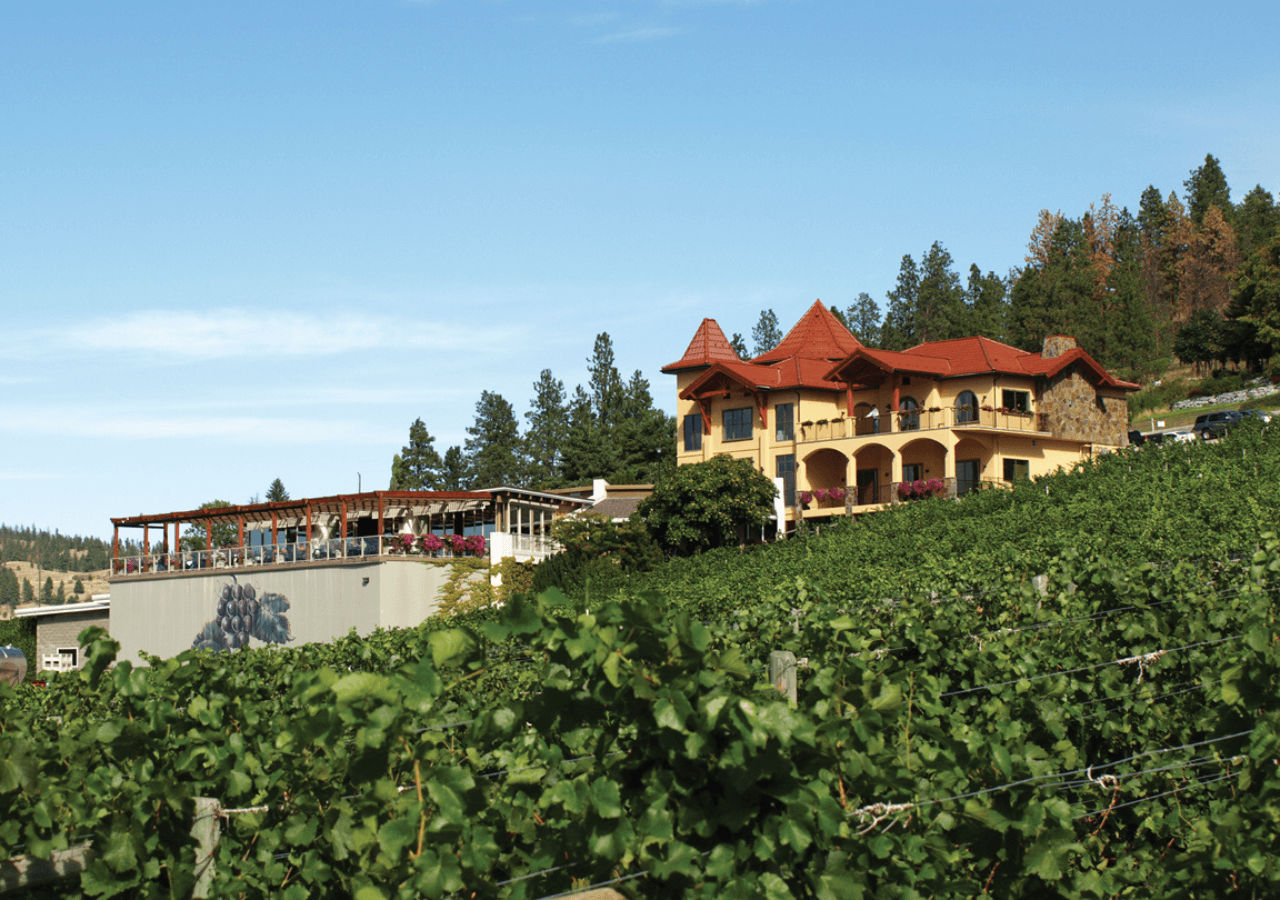 Earls Kitchen + Bar (Earls On Top)
Located in downtown Kelowna, Earls Kitchen + Bar is a local favourite. You can't make reservations for the patio (it's just first-come, first served), but get there early, and you can enjoy Happy Hour starting at 2 pm.
Earls is next to City Park, so you'll enjoy incredible views from the rooftop overlooking the lake and the Sails (the white fountain statue you'll spot).
You can look forward to great food, Instagrammable cocktails, and a wine list featuring local favourites.
Old Vines at Quail's Gate
The vineyards at Quail's Gate Estate Winery are the perfect backdrop for outdoor dining at Old Vines Restaurant. This historic property oozes elegance, so go ahead and fancy yourself a celebrity with your whole crew.
The wine list is fantastic, and the locally-sourced food always features some of our favourite menu options in the Kelowna area.
Quail's Gate is on the Westside Wine Trail, which features some of Lake Country's oldest and most well-established wineries. Its neighbours include The Hatch and Mt. Boucherie Estate Winery, which we also love to visit.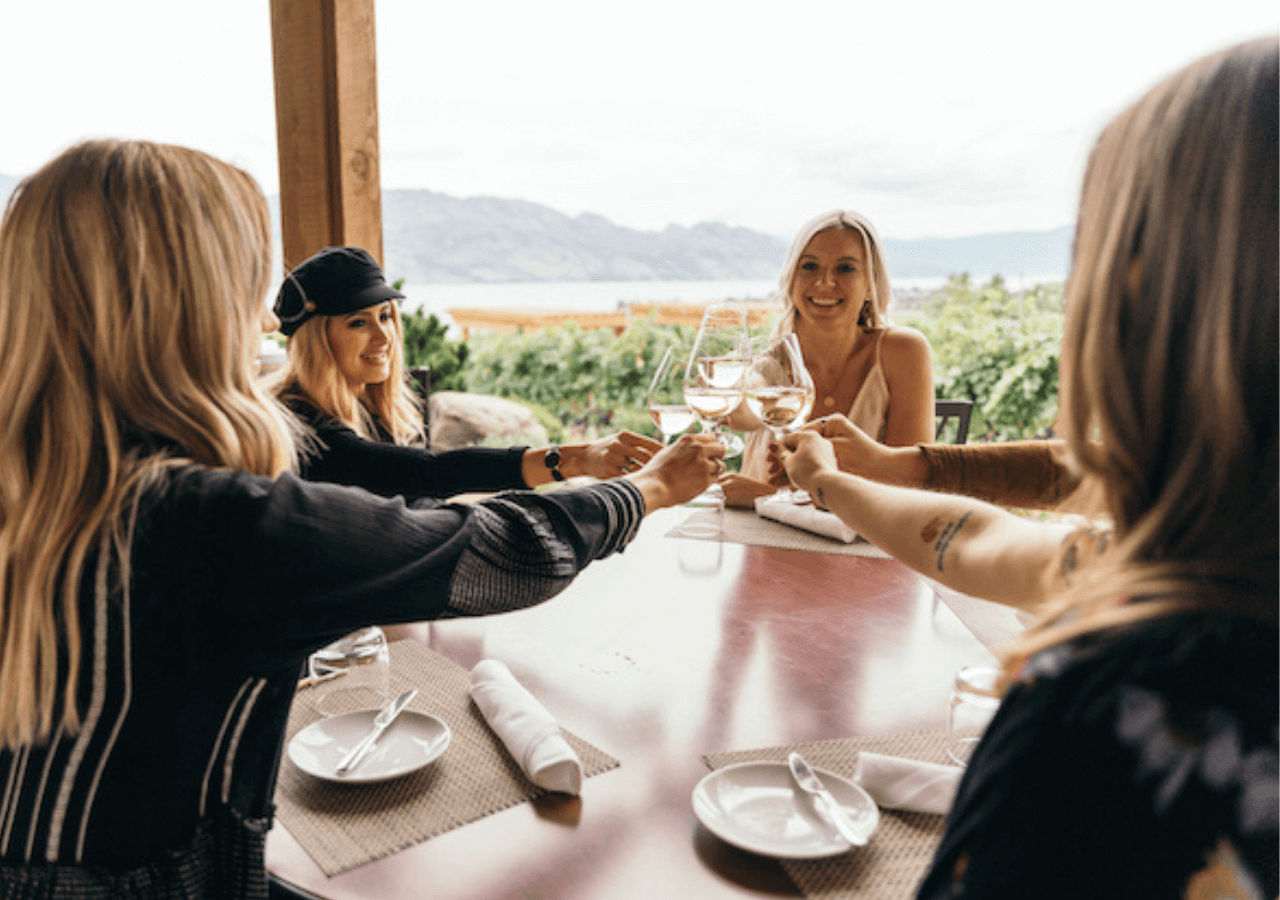 DunnEnzies Pizza Co.
Listen up if you want to feel like a local when visiting Okanagan. Head to DunnEnzies (Mission location).
There's a HUGE old tree in the back, live music is usually jamming, plus you'll get all the pizza, tacos, and tasty drinks you can fit. It feels like your best friend's house party with dramatically better food and service…and better tunes than that tired old playlist.
DunnEnzies has been a local favourite in Okanagan for years, growing from a downtown Kelowna location to the airport and Lower Mission. We love it and want everyone to get over there to enjoy it, too.
Hot tip: Happy Hour is 3-5 pm. Don't miss it.
Lakeside Restaurant at the Hotel Eldorado
Hotel Eldorado is one of our favourite places for drinks in Kelowna, and its patio is ample reason!
This 19th-century classic lakeside spot is one of the oldest buildings in Kelowna. Boasting boat views and old-school charm, the hotel makes you feel like you stepped back into a ritzier era.
Of course, we're here for the food and drinks – plus the patio views! The Lakeside Restaurant combines all of that for an epic spot in Kelowna.
People-watching is always spot-on at Hotel Eldorado, even though you'll be away from Downtown Kelowna for a quiet reprieve.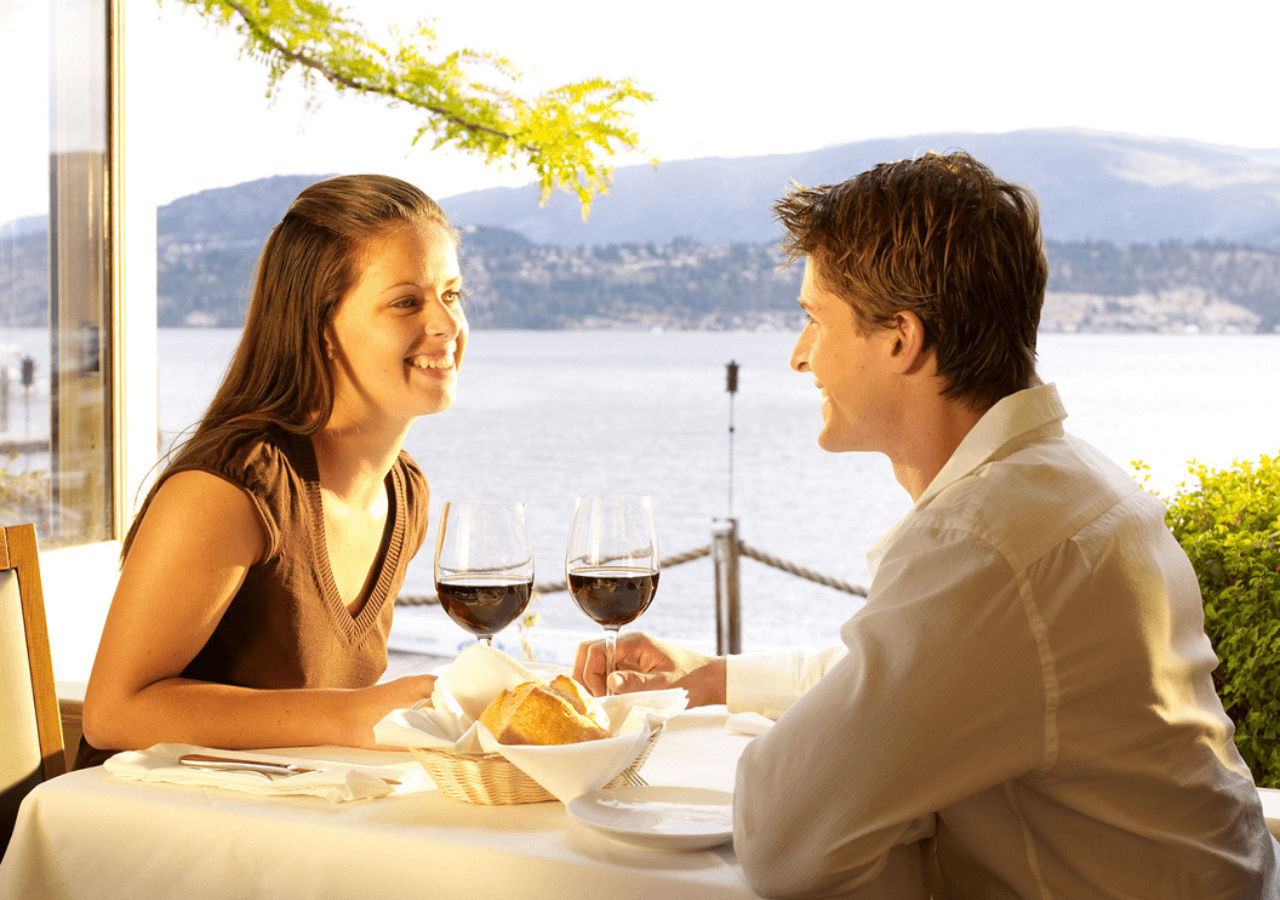 Central Kitchen + Bar
If you're into people-watching, tasty grub, and awesome vibes, Central Kitchen + Bar is your place in Kelowna.
We highlight Central again and again because they never disappoint. Their food is reliably fantastic, and their service is top-notch.
Their recent renovations added a perfect patio space (along with overall expansion across the entire restaurant), so now you can enjoy the superb weather and the good eats simultaneously.
Central is also one of Kelowna's best breakfast and brunch spots, so hit them up all day for outdoor dining and drinks!
Co-owners Jared and Devon have roots at Earl's, so seeing their continued focus and dedication to their venture makes sense.
Whether you're looking for pizza and burgers or vegan and veggie options, there hasn't been a thing we haven't liked on Central's menu. Their Huevos Rancheros might be the best damn plate around.
This is a local favourite, so make your reservations early and don't miss out.
19 Bistro @ Fitz
So this outdoor dining is outside Kelowna in Peachland, but – trust us – it's one you absolutely can't miss.
Who could refuse a place with the tagline "Effervescent Experiences and Delicious Local Dining" – not us!
Fitzpatrick Family Vineyards offers a view you won't get anywhere else in the valley. Tucked between Okanagan Lake and the Okanagan mountains, this unique spot produces fabulous climate wines despite the soaring summer temperatures.
Between these views and their diverse wine range, we're huge fans of the Fitz. Add in the fantastic food at 19 Bistro, and you've got a freaking gem of a place.
Check out our Summerland wine tour if you want to explore their sparking wine range and see the traditional production method first-hand.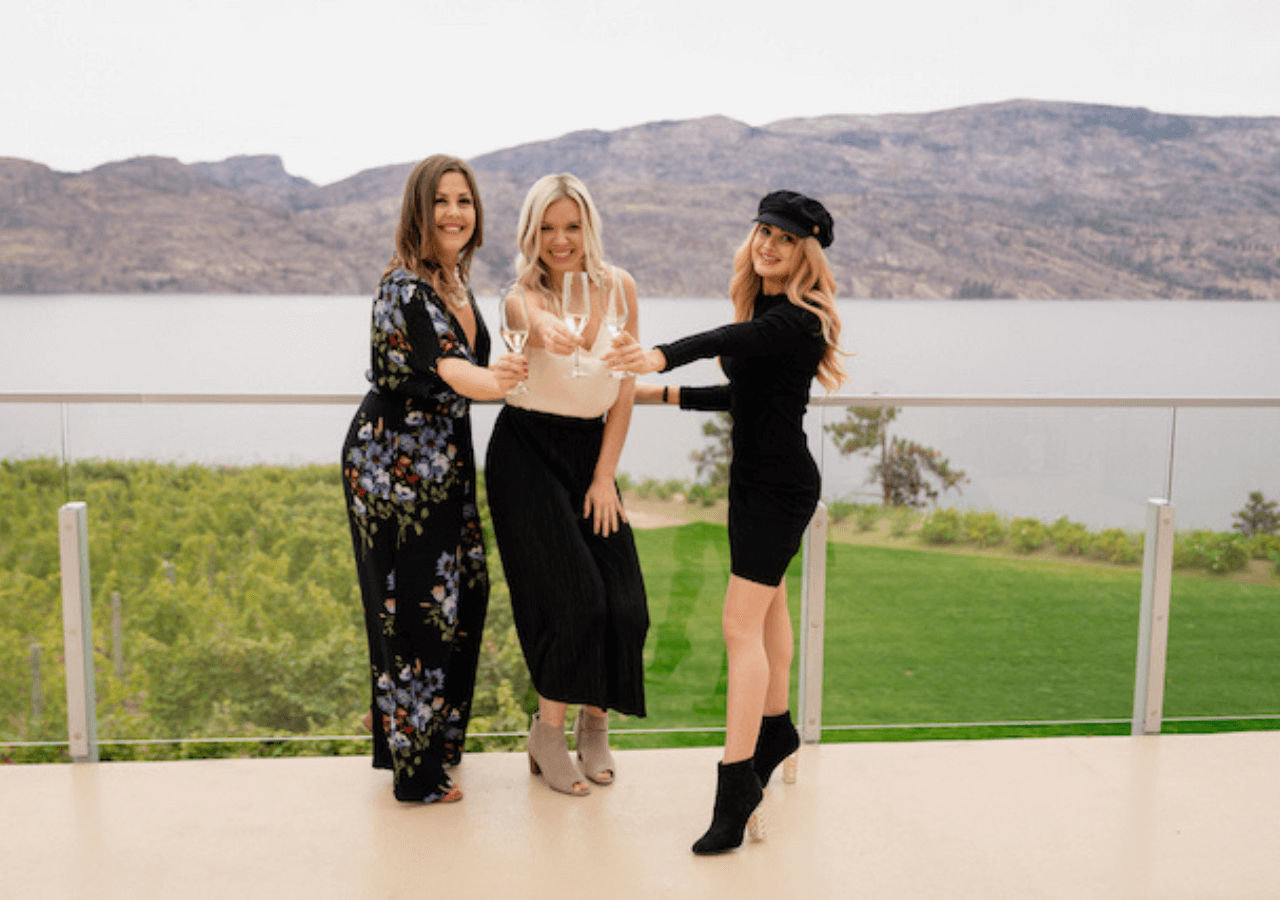 Whether you live here or are visiting, we hope you check out all these perfect patios and outdoor dining options in Kelowna (and nearby). We regularly see most of these spots on our Wicked Tours and as local foodies and wine lovers.
Do you want to join? Come #getwicked with us!